Deggial
Posted by Thor on August 13 2007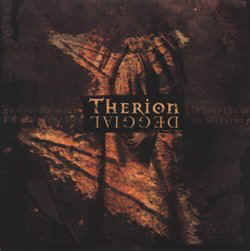 DEGGIAL
Rok Wydania: 2000
Utwory:
1. Seven Secrets Of The Sphinx (3:36)
2. Eternal Return (7:11)
3. Enter Vril-Ya (6:38)
4. Ship Of Luna (6:29)
5. The Invincible (5:09)
6. Deggial (5:04)
7. Emerald Crown (5:29)
8. The Flight Of The Lord Of Flies (1:22)
9. Flesh Of The Gods (4:06)
10.Via nocturna ( part 1 and 2 ) (9:32)
11.O fortuna (3:21)
Komentarz Chrisa:
Wcześniej używaliśmy tylko gitar i chóru . Ale na ten album ( którego koszt wyniósł 115 tysięcy DM i wymagał 3 miesięcznej pracy w studiu ) musiałem wyasygnować fundusze, by dodać różny instrumenty z mosiądzu, instrumenty drewniane, dęte jak również orkiestralne bębny . To czego było najwięcej na tym albumie , w mojej własnej opinii , były klasyczne kompzycje .Gitarowo cofnąłem się trochę w czasie i użyłem wielu riffów na styl zepsołów z lat osiemdziesiątych, na których się wychowywałem. Różnice pomiędzy utworami na tym albumie można zauważyć porównując chociażby Via Nocturna i Flight Of The Lord Of Flies do Emerald Crown, który to utwór zagraliśmy troszkę w stylu bluesa z lat siedemdziesiątych, w stylu którego nigdy wczesniej nie zagraliśmy - jednak nie da się tego usłyszeć po tylko jednym przesłuchaniu albumu.

Teksty: tutaj
Recenzje: |1| - |2|
Comments
No Comments have been Posted.
Post Comment
Please Login to Post a Comment.