Live In Midgard
Posted by Thor on August 13 2007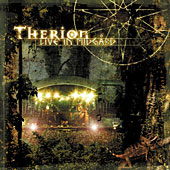 Live In Midgard
Data wydania: 31 Wrzesien 2002
Utwory:
CD1:
01. Ginnungagap
02. Invocation Of Naamah
03. Birth Of Venus Illegitima
04. Enter Vril-Ya
05. Riders Of Theli
06. Symphony Of The Dead
07. A Black Rose
08. The Return
09. Baal Reginon
10. Flesh Of The Gods
11. Seawinds
12. Schwarzalbenheim
13. In The Desert Of Set
CD2:
01. The Wings Of The Hydra
02. Asgard
03. The Secret Of The Runes
04. The Rise Of Sodom and Gomorrah
05. Summernight City
06. Beauty In Black
07. Seven Secrets Of The Sphinx
08. The Wine Of Aluqah
09. The Raven Of Dispersion
10. To Mega Therion
11. Cults Of The Shadow
Od Webmastera:
"Live In Midgard" - na żywo w krainie ludzi. Płyta zarejestrowana została podczas koncertów w Budapeszcie, Hamburgu oraz Kolumbii, a nagrana została z okazji 15-lecia istnienia grupy. Na dwóch krążkach znajduje się minimum jeden utwór z każdej płyty i w sumie nic dziwnego, że pierwotnie miała ona nazywać się "Celebratiors Of Becoming", jednak nazwę tę ostatecznie zarezerwowano dla DVD, które wydane zostało dopiero cztery lata później.

Comments
No Comments have been Posted.
Post Comment
Please Login to Post a Comment.