ENGLISH - The interview with Lori Lewis
Posted by Thor on February 03 2008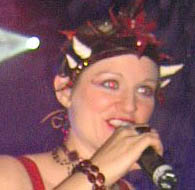 Lori, the beauty in the Beast, gods know how many people fell in love with her, gods know in how many dreams she appears every night! Most people know she's from the States, she's been singing in Therion since 2007 and.... nothing more! Well, it's time to reveal something more about her.
Agnes: Hello Lori. It's 1 p.m. your time. How are you feeling now?
Lori Lewis: I'm feeling refreshed... this week I started back to my "old" life of teaching, singing, etc. etc. It's great to be home and singing "unplugged" music for a change!
I'm glad to hear you're well. Prepared for some questions?
Sure! Ask away, Agnes.
How have you started your adventure with music and singing?
Well, it all began when I was about four years old. I sang in the children's church choir and was given a short solo, along with two other girls. We each had a short part to sing in the Christmas concert. I guess that was my first "solo" performance, and I was hooked even at such a young age. I remember very clearly having no stage fright, but rather enjoying the thousands of eyes trained upon us. I went to a very big church as a child (usually 2,000 people in the congregation at major holidays.) I continued with singing at the church until I was a teenager. At that time, I made a conscious decision to no longer attend that particular church. I realized that the main reason I liked church was for the music. My grandfather was a church musician and taught me how to read music from a very young age. We used to sit together at the piano and he would play songs as I sang. I have many fond memories of this from my childhood. He was very important to my development as a musician. I feel almost as if he cultivated me to be the performer I am today, though he did it without pressure. During high school, I sang occasionally, but didn't realize that I wanted to be a musician as my career until I went to college. During college, I studied Engineering for a semester, thought about Criminal Law, then ended up going back to music. It seemed the truly natural choice, though some in my family was sad to see I wasn't going to be a famous scientist or doctor. Ha ha!
Sorry, some in my family WERE sad... But, ultimately, I believe I made the right choice, because today I feel truly happy with my decision I made in early adulthood.
That's good. I still don't know what I will do in the future. How old were you when you decided to be a musician?
Well, the actual decision came when I was about 20. Looking back, I see that many paths let me to that decision, but it wasn't until a very traumatic event happened in my family that I realized I needed to follow my passion (my uncle, who I grew up with, was in a fatal car accident. He was only 23 when he died.) It made me realize that it's important to follow one's passion, especially if you have the knowledge and ambition to seek your destiny.
I see. Let's leave sad situations for now. Another question...
Of course! Sad, but happy actually. I found my passion through the pain.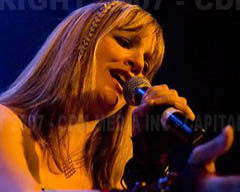 Tell us something about Aesma Daeva. Who and when founded this band?
Aesma Daeva was created by John Prassas, a composer and guitarist. He was in college at the time and wanted to create a musical style that wasn't "out there" in the scene that he knew. I believe AD was founded about 8 years ago. Later, of course, he found that there were several bands experimenting with the same type of music in Europe.

What kind of music do you play?
We call it Symphonic Metal. I think it's a bit on the progressive side, but the lyrics and much of the singing has a definite "doom" element. Many of the songs are rather sombre and deal with loss and death.
We know you rather from Therion so let's talk about this band. How long do you know Therion? How were you welcomed by bandmembers when you had joined Therion?
I had heard of Therion about two or three years ago, when I joined Aesma Daeva. Of course, I became much more well acquainted with their music after having been invited to be their touring Soprano for 2007. I was welcomed quite readily. The Niemanns were very warm and welcoming. Christofer liked my voice and, I think, enjoyed working with me as well. The feeling was mutual. I learned much about how to be a "rock" performer from watching Mats and Snowy. With Aesma Daeva, stage shows are much more static, Therion is very dynamic with much energy and movement. I really enjoy this type of performing, because you truly feel connected to the other musicians as well as the crowd. After Wacken and the Classical festival in Miskolc, Hungary, I feel I made significant strides forward in terms of owning the stage. I felt incredibly energized by both performances and enjoyed them immensely.
What do you think about Therion? Which song of Therion is the dearest to you? Which song do you like to sing the most?
Wow, that's a tough question, because I like several songs. I think Therion is creative and innovative within the framework of what Symphonic Progressive Metal is today. One of my very favorite songs from the GK album would have to be "Perennial Sophia". I can't help it! Even though I only sang a very small portion as a back-up on that song, it was such a beautiful piece. I also very much enjoyed performing "Falling Stone" with Kat. She was so much fun to work with. And I have tons of respect for her amazing vocal ability and stage presence. As for past cds, my favorite past cd would probably be Secret of the Runes. I really love the combination of soloist (rich dramatic soprano) with warm choral sounds.
Your version of Midgard was awesome!
I really enjoyed Midgard. And I really like Helheim. On Lemuria/Sirius B, I would pick "Kali Yuga" or "Son of the Sun". I think Kristian Niemann's compositional abilities truly shined on that album (Kali Yuga 2 ROCKS!!!) On Theli, Siren of the Woods... naturally. It's very theatrical, which makes it interesting for me. On Deggial, Via Nocturna. That's about it. I'm not as familiar with Vovin... Well, that's not true. I like "Clavicula Nox" and "Wine of Aluqah".
Now some questions about last tour. Do you remember any special or nice moment/situation from the last show in Cracow?

Wow. That was a great show. I suppose I really enjoyed the crowd (of course!) Cracow's audiences are amazing. It was Piotr's last show, so we had fun with him that night.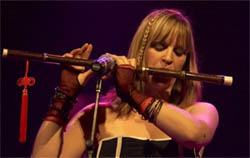 What do you think about Poland, Poles and Polish audience in Cracow?
I think Poland is truly beautiful. We had time that day to go into the older city center and walk about for a bit. It's filled with beauty and architecturally is very interesting. AND... that night, after the show, these huge snowflakes began falling. It felt magical, that night! Everyone was kissing and hugging after that show. We all had a good feeling after that one. Plus, I had plenty of time to speak with all of you guys, which was wonderful. Often times, venues will kick everyone out immediately. I like that this didn't happen in Cracow.

Do you know how much you are beloved in Poland? Do you know how many fans fell in love with you after the show in Cracow? (laughs) Do you have any plans for a small visit in Poland? (Forum TMP invites!)
I can imagine a few, since the feeling was mutual. I fell in love that night, too! I don't have any immediate plans to visit Poland, but I'm sure this will be a likelihood in the further future. Of course, Therion will be back and I'll probably be with them. Nothing is for sure, of course, because they hire singers as they need them for each project. But we had good feelings towards each other for the most part, so I'll probalby do something with them again.
Do you know anything about line-up for next Therion tour?
No, no idea on what the plans are yet. I think there are quite a few pieces that have already been started on from a project that pre-dated Gothic Kabbalah, but that's all I know.
You were (almost) the only one woman on a stage during Adulruna Rediviva Tour. What it was like?

Well.. Well...Well! It was mostly fun but I sorely missed Kat! She and I became good friends during the Gothic Kaballah tour; I missed her presence offstage and her talent onstage. But it was good to have to be the only female in one regard: I had to work extra hard to pull my own weight onstage, so to speak. Snowy has such a huge presence on stage, not just because he's the tallest! ha ha! It was exciting to have to put out just as much energy and feeling as the guys and not be a "choruster" on stage. I think that Kat and I tended to use the "duet" or "chorus" persona quite a bit more on the GK tour. With the Adulruna tour, all bets were off and I was able to energize my staging quite a bit.
Now, a question from Thor. How would you compare Europeans to Americans? Have you noticed any cultural differences?
Hmmm. Good question. I think it's hard to generalize, but the Europeans I met were typically intelligent, enthusiastic and more invested in our performances. Americans, in general, tend to be a hard audience. They're not impressed by much. And they don't really want to get to know us in the same way that Europeans do. Culturally, I noticed that Europeans tend to be both more and less standoffish. Once you meet them, they're truly interested in knowing who you are and what makes you tick. But, you have to make the effort to say hi and make yourself available.
Try to sum up the Anniversary Tour. What do you remember the most? Good things and bad lucks?

I remember the long hours on stage (almost three hours every night.) I remember meeting some amazing people on this tour (all our guests.) Messiah was really caring and funny, Piotr was slightly mysterious but had a fantastically dry sense of humor (very subtle), and Mats, well... what can I say? He's incredible onstage and off. He has a very sharp sense of ironical humor. It was a bit of chaos getting us all together, but we put together a strong show in a very short time. I also really enjoyed our opening band, "The Vision Bleak". They were very talented, nice guys.
There are some questions not too much related to Therion.
Fire away, my dear.
Except singing, do you have other flairs, for example for cooking? (question from guys wondering if you are a good candidate for a wife <laughs>)
Ha ha! Yes, I'm an excellent cook, as a matter of fact. I make up my own recipes. I mostly enjoy cooking asian food. Anything with curry is probably my favorite. I make a delicious dish with golden potatoes and kale. I'm a vegetarian...
Like Christofer.
Yes, kind of. I do it for health reasons, mostly, while I think he does it mostly for moral reasons but I respect his position entirely. I think that many of the animals that we eat are not raised in a healthy environment. I also love bicycling, I own a Bianchi and use it as my main source of travel during the warm months.
Tell us something more about your hobbies then. How do you spend your free time?
I have a passion for yoga, which I try to do every day. I'm an avid reader, and especially like fantasy and Sci Fi. I'm working on a new music project with a friend right now, which takes up some of my time. I'm writing melodies and lyrics for a few of his songs. They're acoustic.
What do you get from yoga?
I feel more connected to others and also more centered when I practice regularly. It's calming... it also helps me focus. Also, it's good to be flexible!
You keep your body in a good shape
I try to do so. It's important to start young... I also have recently learned snowboarding. I like it very much! It's easier than downhill skiing. I feel I have more control. But you can also go MUCH faster!
Would you ever dare to sing in a black metal band?
As long as I can sing classically, yes. But I can't growl. I don't really understand the mechanics behind growling. I kind of like some black metal. Like Demonoid, for example. They're more progressive.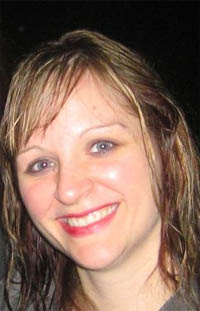 What are your favourite bands/artists? Your influences?
Wow. There are many. I have extremely eclectic tastes. I'll start with Classical music.
Composers: Johannes Brahms, Gustav Mahler, John Tower, Tobias Picker, Ralph Vaughan-Williams. Classical singers: Dietrich Fisher-Dieskau, Ann Sofie Von Otter, Dawn Upshaw, Arleen Auger.
I admire: Helmuth Rilling, Ton Koopman, Nick McGegan, Bobby McFerrin.
As for contemporary music, I listen to a little bit of everything: Ani Difranco, Beck, Emiliana Torrini, Nick Cave, Coach Said not To, The Deaths, Buena Vista Social Club, Massive Attack, Sigur Ros, The Deaths, Gillian Welch, Smashing Pumpkins, Porcupine Tree, Virginia Rodrigues, Pink Martini, Tom Waits, the list goes on! Oh, and I like Bjork. Coach Said Not To and The Deaths are local bands from Minnesota. Buena Vista Social Club is a revolving group of artists from Cuba. The music is cuban. Virginia Rodrigues is from Bahia, Brazil. She has a sound that is unlike anything you've ever heard.
Some offtopic ones will be now. Do you prefer old clothes, for example in gothic style, classic ones or just something that is fashionable?

Well, I tend to go for black. I definitely try to incorporate my own sense of style, though. I usually wear the "punk" style rather than Gothic style. I like bright, obnoxious colors! And I love red. And white and black. And plaid. And boots. If I could get away with it, I'd dye my hair some outrageous color and change my name to "Lu". Ha ha! Not really. I like several styles of fashion, but I tend to be interested in very forward-thinking contemporary style. I can't wear much of it, though. I'm not built like the typical American model... ;) Too curvy! I don't watch much television, but when I do, it's usually fashion related programs or scientific programs. Or animal shows, when I'm feeling like I need a laugh or two. I hate reality TV, but I do like "Project Runway". It's a competition between fashion designers. Very fun and interesting.
Well, I wanted to ask you about something. Why you drew a broken heart on TMP flag?
Ha ha! I have a very silly answer: because a normal heart isn't METAL!
Question from Immortal King - do you have a permanent partner?
I don't have a permanent partner right now, but I'm working on that! We've met, we've fallen for each other, now we just need to spend time together to see if it works.
Do you believe in God?
Next questions. Ha ha! Can I say both yes and no?
Yes and no (laughs)
HA ha! I believe there's a reason we're here today, but if that's God or something else I can't say. Ooo! That rhymed! Maybe I'll use it in a song.
Thor prepared some more questions for you. What do you think about Bush's cadency?
Ooo. I think he didn't actually win the presidency but rather stole it. I'm ashamed to know that half of the US's voting public does not bother to even show up at the polls. That's why doofuses like George Dubya get a chance.
Who are you going to vote for in upcoming presidential elections?

I haven't decided who will get my vote yet. I really like Dennis Kucinich, but he's probably not going to get the Democratic nomination. He's too progressive. I like Barack Obama because he's an idealist, which appeals to my optimistic American side. But I don't know who will get my vote yet. I've voted for Ralph Nader the last two times... I think that the USA needs more than two parties to represent its public.
Do you think that policy of interventionism is good for USA? Wouldn't it be better to keep the policy from beginning of XX century - isolationism?
I think that interventionism is a dangerous road, yes. I think the idea of pre-emptive strikes is horribly misguided and will only cause more and more trouble for the US. I don't know if we can go back to isolationism anymore, though. The world is so inextricably entwined anymore. Technologically, economically, etc. I think a path of peace and respect for others' traditions would be a much more fruitful path, though. Rather than "nation building".
Why do you consider Dalay Lama as your authority?
Ah... I don't necessarily consider him my authority; I simply respect his views and his insistence that all human life is sacred. Sacred as in important. And unique. And should be embraced as a part of the whole.
Now is the last question for you. Thank you for spending these 2 hours with us. Feel free to say anything you like to your fans and readers of this interview.
It was my pleasure, Agnes. Thanks for having such thought provoking questions for me, everyone. And stay METAL! Ha ha!
Stay metal! Stay in Therion!
I'll try!
Thank you
Thank you!

The interview made by Agnes

, 18th January, 2008
Photos: Karol Romaniuk & Aesmadaeva.com
All right reserved!

Comments
No Comments have been Posted.
Post Comment
Please Login to Post a Comment.