English - Deggial review
Posted by Thor on September 04 2007
Deggial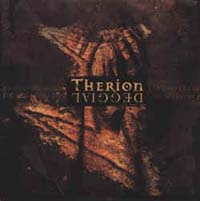 It's very hard to write something about an album that has already been talked a lot about. Awaited with impatience by many fans, Deggial does not disappoint. One thing is sure, this album is a deed of genius. It is completely different than the powerful "Theli", or "Vovin", which is overfilled with energy and beautiful symphonies. From this music flows out seizing sorrow, dusk, and pain. It is more of a monumental opera of darkness than normal symphonic-metal music. It has voices, instruments, echoes, etc.
On Deggial, we hear more symphonic music, which includes stringed instruments, flutes, oboes, great war drums, along with sublime vocal lines (basses, sopranos, altos), and classical arrangements. Heavy metal guitars appear less frequent. They often are just a background for the powerful choirs and orchestra. The novelty are omnipresent acoustic guitars. This album is absolutely perfect from every aspect of the recording. Every voice and instrument is very audible. (the cost of recording session was 100000 DEM). A very interesting thing is "therionized" version of Carl Orff`s classical song "O Fortuna" ... it sounds amazing (first heavy guitars, later strings, drums and the choir). Dusky lyrics on all compositions refers to the mythlogy of many nations. They are full of tales about gods, dreams, forgotten ceremonies, etc.
This sublime, monumental work of Christofer Johnsson will probably be the best candidate for album of the year 2000 (but I'm wondering in which category: choiral-classical metal?). Filled with beauty, sorrow, and magic, the album draws the listener into a crazy, dusky universe. Old gods are dancing in the night, the skies are burning, blaspheming creatures are living beetwen mortals again...
PS: I encourage the fans of classic and choral music to listen to this album. It is well worth it!
author: Miki(S)

Errors correction by Diane/Eve - thanks!
Post Comment
Please Login to Post a Comment.