ENGLISH - SOTR review
Posted by Thor on September 04 2007
Secret Of The Runes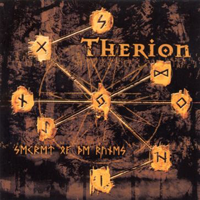 As it's been some months since this album was released I've decided to sit down and write some words about it. Why am I doing it so late? It's because, honestly, for a long time this album was nothing special for me. Well, maybe just a good job, but somewhat confusing musically. However, after months and many hours spent listening to this album I can definitely say that it's great!
"Secret of the Runes" is an album that cannot be loved or hated after just a few times listening to it. To get the true feeling of the album, some time is needed and to truly see the beauty in it one has to sit down in a quiet room, turn the volume up loud and concentrate; really listen. It's the best way to get know how the album, which at first sounds like it contains only choirs, is actually heavy and how it's lightened with beauty and mysticism. Even first track, "Ginnungagap", starts with raw and chaotic guitar sounds which are extremely heavy but when the choir starts singing it mixes in perfectly. I'm not going to write about every song, but I will try summarizing them.
First of all, the guitar tone and riffs are excellent, sometimes sounding so hard you'd think it was a tank! What's most important about "Secret", compared to earlier releases from Therion, is the huge number of quality guitar solos, which appear at the perfect moment during the songs. One can feel the passion of the band in the music.
In addition to the electric guitars, there are also acoustic guitars and quite often violins. During the recording sessions many different instruments were used, mostly those used in Orchestra Halls, but Johnsson found a place for each instrument, even a special horn which composers Wagner and Strauss used often. Therion borrowed them all well.
When mentioning the vocals, one noticeable and interesting thing must be said, the female parts are mostly solo while the male parts are song by a choir. This is another way that the album seems so heavy, since the male vocal parts are so powerful when song in multi-part harmony.
"Secret of the Runes" is extremely melodic, with every note having been preciously thought over by Chris. No doubt that this album is the most mature creation from Therion, and perhaps the most mature album in the world for the last few years.
I'm really astonished when I hear criticism for "Secret of the Runes", but as I wrote in introduction, this is not the sort of album which one can love from the first listen. While you might say "Yeah, it's not bad" at first, to really appreciate its beauty you need to grow into it. It's amazing how with each trip through "Secret of the Runes" you can find a detail which you overlooked previously. Each and every detail like this has been planned perfectly and excellently executed.
[English Editor's Note: The US version of "Secret of the Runes" didn't ship with the two bonus tracks mentioned in this paragraph.] Heh, I tried to keep it short, but I screwed up! :) Anyway I've gotta also write something about not-melodic side of "Secret of the Runes". In short, it's about the lyrics. This is concept album in which eleven songs have been written about Odin's journey through the worlds of Norse mythology. The first track is prologue and the title song is the epilogue but on this album there are songs which completely do not fit! While the style is still Therion, the extra tracks damage the album by ignoring the concept of the album. The songs in question are all cover tunes. "Crying Days" by Scorpions and "Summernight City" by Abba. In my opinion, if somebody makes a concept album, they shouldn't damage it by adding some bonus tracks. But this is the only thing which I could find wrong with "Secret of the Runes". Maybe it's not too big an issue, but to me it's the same as a fly on a television screen – it might not be too irritating but it sure does disturb the experience.
"Secret of the Runes" is great album, well worth purchasing. Even the packaging is done extremely well. Anyway, let's leave on the following note. Compared to "Deggial", "Secret" just crushes it! Comparing to other albums would be futile since it's obvious that this album is a unique Therion style we haven't heard before. Of course we can start to look for some resemblance to other bands, but in few years I bet other bands will be compared to Therion. This is not the music for kids who listen to brutal death metal but for open minded people and, most of all, those who can appreciate beautiful orchestra music, I recommend it with my whole heart!
THOR

(checked by Kylania - hey dude, are you alive???)
-