ENGLISH - The interview with Mats Leven
Posted by Thor on September 04 2007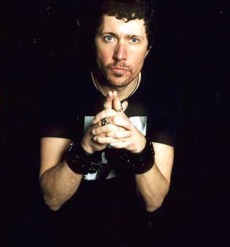 While some musicians devote their life to the one and only band, there are others who play with so many guys around that it's hard to track all their movements from one project to another. Those of the latter category become even more interesting to follow when they are involved in projects of various genres. Many of the fans around the world love Swedish singer Mats Leven for handling the vocal duties on Yngwie Malmsteen's album "Facing The Animal" (1997), but they may not even know about his involvement in the projects of Candlemass bassist Leif Edling such as Abstrakt Algebra and Krux. At the same time, many of those who admired Mats' performance on the latest Therion album "Sirius B/Lemuria" (2004) and subsequent live shows may have no idea that about 15 years ago he was the singer in such cult hard rock collectives as Treat and Swedish Erotica. What we decided to do when we met Mats backstage at Therion's Moscow gig in December 2004 was a kind of overall interview, covering more or less all the aspects of this great singer's career, and shortly after the band returned home, we gave Mats a call…
How did you like Moscow? Did you manage to see any of the city?
No, I came to Moscow five hours before the show, and then we left at six o'clock the next morning. (laughs) I went straight to the venue, did the soundcheck, waited for the show, then we went straight to the hotel. (laughs) I didn't see anything at all.
And how did you like the gig? Did you enjoy the audience and the performance?
Yeah, it was great! It was my first time in Russia, and I was really surprised by the audience. They were fantastic, it was really good.
How did you originally get the Therion gig? When and how did you first meet Theiron mainman Christofer Johnsson?
I was a friend of Johan Niemann, the bass player, and me and Johan played with another band together. Johan just asked me one day if I was interested in doing some lead vocals on the album, and I said, "Sure!" Then I met Christofer, I got to hear some of the songs, you know… That's how I met him.
How much did you rehearse before the tour? As far as we understand, playing together with a choir and a taped orchestra is not an easy matter…
Well, for me it's not really different. It was probably more work for Peter, who plays the drums, because he's gotta be in sync with all that stuff. They rehearsed without me quite a lot, I think. I probably just rehearsed three times or something before the tour started. I stayed at home and just learned the lyrics myself, so I was prepared, and them we rehearsed together, all of us, maybe three times.
In Moscow you performed two cover versions - Mercyful Fate's "Black Funeral" and Motorhead's "Iron Fist", which really surprised a lot of people. Was that your idea to add them to the setlist?
I don't remember, maybe it was. I played other songs of both Motorhead and Mercyful Fate before, so it was probably me and Christofer discussing what covers to play, and then we came up with those.
And who is more difficult to reproduce - King Diamond or Lemmy?
(cracks) Eh, it's about the same. It's more hard for the voice to do the Lemmy thing. If I would do that every night singing ten Lemmy songs, I would be pretty exhausted afterwards.
And you probably don't drink and smoke that much…
(laughs) No, I don't. But it's great fun to do both of them.
Will you continue with Therion in the future? Or was it just a one-off session job?
No, no, we're gonna do more shows this year, and I hope that we're gonna record a new album. After the summer, maybe in late 2005 or something we might do the album and then get out and tour again in 2006. That's what I'm hoping for.
Now let's pass on to other projects you're involved with. You are featured on the new single "Where Is The Fire", which will be a charity single for Southeast Asian tsunami victims…
That was actually recorded about two years ago. From the start it was done for the victims of the 9/11 attack on the World Trade Center, but something happened with the company that was supposed to release it, so nothing really happened. Now when this catastrophe occurred in Asia, they came up with the idea of using the material that we did a couple of years ago. That's why it is released now, and I think they're doing a DVD with some extra material, and all the money will go to the tsunami victims.
We've seen many examples of charity singles actually doing no good. For instance, the people who involved in the recording of the German all-star single "Let Love Conquer The World" circa 1990 later told us that nobody knows what happened to the money they raised. Do you think your single will really help the tsunami victims?
(laughs) I don't know, but from what I've heard about the company that will release the single now, a lot of companies on the Internet like Amazon.com have already ordered many copies of it. That sounds good, that should mean that it should get distributed and sold to people as well. It should be quite a lot of money, I really hope so anyway.
How did you divide vocal parts for this single? If we're not mistaken, there are about 150 musicians involved in the recording…
I don't even remember, it was several years ago. (laughs) I just went to the studio and sang a couple of lines, it was really a fast thing. I don't really know everyone who's involved in it, because I just went there and did my part.
If we're aware correctly, at the moment you are involved in at least four different bands. How do you manage to do so many things simultaneously? Do you have any secret?
(laughs) The bands that I'm involved in are really Therion, a band called Krux with Leif from Candlemass, and a German band called At Vance. But with Krux we only recorded one album and haven't really toured, because everyone has been so busy with other stuff. It's only Therion and At Vance that I really have done any tours with.
An Internet rock encyclopedia called Rockdetector has recently called you a "journeyman vocalist". And indeed, you have hardly ever recorded more than two albums in a row with the same band. Why is this happening? Do you get bored easily?
No, not really. Most of the bands that I have done albums with have never been bands really, they were more like projects. I guess pretty often people think that it's a new band, but mostly it's maybe just a guitar player who wants to do an album, he collects some people, and then we do an album. But if you look at those albums that I've done, I never toured with many of those bands. I did two albums with a project called Dogface, but we only did one concert. (laughs) I did an album with a band called Abstrakt Algebra and we only did three shows, they were just friends of mine, there was also Leif from Candlemass. The Yngwie Malmsteen thing - I did one studio album and one live album, and that was more or less what I had to do under the contract I signed. That was kind of decided from the start. With At Vance we're releasing a second album now, in March, I think. But many of those albums I have been singing on are normally just projects that need a singer, or it's a friend of mine, who wants to release an album. Normally they don't call it a project, it looks as if it is a band, but pretty often it's not a band at all. That's the difference from Therion, for instance - everyone knows that Therion is a real band, though Christofer is, of course, the main guy. And the thing that people tend to forget as well is that 90 percent of musicians that I know have to work on the side, they have other jobs. The musician thing is like an extra thing for them. For me, I've been living on playing music for 10 or 15 years, and if you wanna make a living playing music, you gotta be in a very successful band, or you gotta be prepared to do different things with different people. Otherwise, you won't be able to pay the bills, I can tell you that.
So if a band wants you to sing on their album, you will first of all see whether it is successful or not, right?
No, it's not like that. To start off with, there's gotta be something in the material that I like. I gotta like the people, of course, it's gotta feel good to do it. But of course, after a while, when you've done an album or two albums and you kind of notice that the other guys in the band don't wanna do anything, they just wanted to do one album to get the stuff released, then nothing will happen. It would be a different thing if I was the one starting a band with different people, and I knew that I wanted to do something with it for five years, but for many of those bands that I've been doing the vocals for, I'm there, I'm prepared to do something with it, but most of the time the bands can't afford to go out on tour. It costs too much, and you don't get money from the record company, so you do an album, and even if it's a good album, you don't get any money to promote it. In the end, you can't do much with it. You might do another album and try again, but since it's like a project from the start, it's not the same as if you have a band, you're 18 years old, and everyone is prepared to sacrifice their lives to go out and tour for no money at all. It doesn't really work like that with many of those projects. That is probably why there are a lot of albums released today with different projects, but they maybe just release one or two albums, and then you won't see that band again. That happens very often today. They might get some kind of tour playing as a special guest for someone, but it's just as simple as that - if you don't sell any records, the record company won't give you any more money. Everyone in the band has to make a living, has to get money somewhere, so they have no time anymore to put into the project, and the project falls apart. A band like Therion sells really well and has great crowds all over the world, and there you have the possibility of developing the band and doing new stuff. Then, of course, it's much more exciting as well, when you know you have a record company behind you that is prepared to invest money and try to do promotion for you. That's a completely different thing. That was the same thing with Yngwie Malmsteen - there you have a guy who sells albums, but Yngwie Malmsteen, as you probably know, has always had very many different musicians, so when you play with him, it's not really like a band, it's his solo project, and everyone knows it. That's the way it is.
OK, and what was your very first band? We can trace your history back to Capricorn days, but we have no idea what was happening before…
(giggles) Capricorn was a small band that me and my friends had, wee made our own single or whatever. But the first real band that I played with that recorded an album was called Swedish Erotica. We were from Goteborg in Sweden, we did one album on Virgin Records (it was self-titled and came out in 1989 - ed.), and after that I joined Treat. Treat was a band that had been pretty successful before I joined, but they wanted to change the singer. That's when I joined, because I knew the drummer since before. We did one album (it was once again self-titled and released in 1992 - ed.), but just as we released the album, the guy at the record company who had signed us got fired. When they fired him, we kind of lost the contract as well. That's why we only did one album together with Treat.
Do you now think it was a correct move to quit Swedish Erotica and join Treat? At that moment, Swedish Erotica had a big hit in your home country, and Treat wasn't at its peak, as far as we understand…
The thing with Swedish Erotica was that we had a song that was about to be a hit, you can say so. The problem there was that the company that distributed the single and the album in Sweden suddenly went bankrupt. Just when we had a hit, they couldn't distribute any more records in the country. (laughs) For four or five weeks no one in the whole of Sweden could get hold of our album or our single, because it was locked up in a storage room somewhere. That happened just when we were supposed to get this big hit. (laughs) We were a bit unlucky there. I had a pretty good time, but the thing with Swedish Erotica was that they asked me once before to join the band, and I said "no" the first time, because I didn't know if I really wanted to do that kind of music. I did the backing vocals on the album, but they had another guy who was supposed to do the lead vocals. However it didn't work out with him in the studio, and they were kind of panicking. I was there, and they asked me again, and they were friends of mine, so I was like, "OK, let's do it, let's try it." We did one album and one tour, and it was really cool, but then I got the offer from Treat in Stockholm, and I just felt that it was more of what I wanted to do at that moment. Then I moved to Stockholm and joined Treat, and I've been living in Stockholm ever since.
Who were the singers that influenced you in the very beginning? Did you ever have any professional vocal training?
No, not really. When I grew up as a kid, I listened a lot to Ronnie James Dio, Ian Gillan, David Coverdale and Ozzy Osbourne. If we're talking about hard rock and heavy metal, that's the kind of singers I was listening a lot to. I listened to the guys like Peter Gabriel and David Bowie as well, these are probably the most important singers I was listening to.
By the way, do you happen to have any relationship with bassist Jon Leven of Europe?
We only have the same last name. (laughs) We actually played together, we had a band called Southpaw. We released an album in 1998, it was a really good album, but it was a shitty record label. So we're friends, we played a lot together. We might have some connection a couple of hundred years back, there are not too many people in Sweden that have that name, it's kind of unusual, but as far as we know, there's no connection.
It's an interesting thing - in the 1980s you mostly sang with hard rock bands, but in the 1990s and in the current decade you also work a lot with more extreme bands, such as Abstrakt Algebra and Therion. What kind of music do you personally prefer?
Well, I guess, in the last two years I've been listening to more extreme music, if we're talking about hard rock and heavy metal. Right now I'm listening a lot to a band called Strapping Young Lad with Devin Townsend from Canada, it's quite hard stuff, and I really like that. When I started to do albums and stuff, it was more like glam rock, AOR and basic hard rock, but then I got bored with that. I really like both albums that I did with Leif, he is one of my best friends, that's the guy who did Abstrakt Algebra, and we did the Krux album as well. I'm recording a solo album myself, but it doesn't sound at all like that. (laughs) It sounds more like Nine Inch Nails, it's another kind of thing, but I really listen to quite diverse types of music. I listen to reggae, rock and some jazz stuff, I like Bjork, I really like Radiohead as well, I just like good music. It was very interesting to play with Therion live, because the songs are so different and diverse, it was really a challenge to do some of the songs, but it's been working out really great. We had a really good time, and it felt really fresh as well to start playing with Therion, because it's such a different thing on stage. We are 10 people on stage, we have the soprano, it's really cool.
One of us saw Therion at Wacken Open Air in 2001, and both of us were at the recent Moscow concert. Now a Therion gig is so different from they used to do before, with you there's much more action on stage…
Yeah. (laughs) When Christofer asked me, I don't think he'd ever seen me play live, so he didn't really know what to expect. I guess, he still thought I would be in the choir and a bit more in the back, but I told him from the start, "If you wanna play live, I really wanna be in the front, I really want to be a part of the whole band." That's why we kind of redid some of the old songs, I have the liberty to do whatever I like to do, and I guess it took a couple of shows before he could start relaxing and realized that everything was cool, I could take care of that. I think it's been good for the whole band that there's a bit more action on stage, and they really like it, they really enjoy our thing. Most of the audience has enjoyed it as well, because it's a different Therion now.
Back to Leif Edling - how did you get involved in Abstrakt Algebra? Were you a Candlemass fan at that time?
Yeah, I've always heard Candlemass, though I didn't get to know Leif until 1993 or 1994. I don't remember really how we met the first time, probably at a bar or somewhere, I don't know. (laughs) He just asked me if I was interested in doing this project, and I was. We just did it, and it went really fast. Actually that was the album that Yngwie Malmsteen heard, he's an old friend of Leif, they've known each other for a long time. He got a copy of the album from Leif, and he tried to get a hold of me for a long time before he found my telephone number. (laughs) That's how I got the Yngwie job, because he had heard Abstrakt Algebra and really liked it.
Your vocal style on that album is very different from what you did with Treat. Was that Leif's guidance, or did it come out naturally to fit with the music?
It probably just came naturally with that kind of music, and I was listening to a lot of other more aggressive music at that time as well. It felt very natural to do it that way, and we kind of noticed very fast that it works great.
Leif has recently released a collection of demos called "Black Heart Of Candlemass". Are you featured on any of these demos? And in general, did Abstrakt Algebra have any unreleased material?
Well, the thing was that we started to do the second Abstrakt Algebra album here in Stockholm, but Leif was not satisfied with some of the recordings, with the sound and so on. He didn't wanna do the second album, and later on some of those songs became a new Candlemass album instead ("Dactylis Glomerata", 1997). I know he released a double CD with old stuff, and I know there are a couple of songs on that album that I sing. Those are demo songs that later made it onto the first album, I think, I don't remember right now.
We cannot but ask you about your work with Yngwie Malmsteen. You see, everybody knows that Yngwie is a very tough person to work with and that he changes the musicians very often. But still there are so many singers and musicians willing to take the risk and try to work with Yngwie. What was your motivation in this case? Why did you decide to join his band?
Well, to start with, for me it was like a challenge to do something with Yngwie. I was kind of flattered that he asked me to join, and it was cool to me as well, because I had never done a world tour, and there were a lot of things that made me want to do it. I wanted to make a really good album with him, and actually from the start I was hoping that we would be able to do pretty hard music. I always grew up with the old Rainbow stuff, I'm an old Ritchie Blackmore and Ronnie James Dio fan, so I was hoping that we could do that kind of album, especially as we had Cozy Powell on drums. I knew that Cozy Powell would play drums, and of course, I was a big fan of his work with Rainbow, so I hoped that we could do almost like a "Rainbow Rising" kind of album. That's what I was really hoping for. It didn't really happen like that, but it was still nice to do some of the songs. And the tour went really fine as well, we had a pretty good relationship. I think Yngwie really liked to work with a singer from Sweden again, because he hadn't been doing that for six or seven years. We had a good relationship really, I didn't have any problems with that, we always meet when he plays in Sweden. I saw him the last time he played here, and he's gonna play the Sweden Rock festival this year, and we're also gonna do that with Therion, so I hope to see him again. Maybe I can join him on stage and play a song or something, we still have a good relationship. But after we had done the tour I just felt that it was enough, it was really what I was aiming for from the start as well. At that time I had a relationship here in Sweden as well, we wanted to move together and look for an apartment and stuff, and I just felt that one album and one tour with Yngwie was enough.
How do you currently evaluate the impact of your work with Yngwie on your career? Did you start getting more proposals from bands and musicians after that? Do you still get any feedback from Yngwie fans?
Well, I got a couple of more calls from people who were interested. At Vance, the German band, probably called because Olaf Lenk, the guitar player, had heard me with Yngwie Malmsteen. I guess I got some more work after the Yngwie album.
Would you work with Yngwie again if he invites you?
(produces a sound of perplexity) It could be cool to do something with him again, I don't know. We are still friends, and if he wants me to sing on some song or whatever, sure I would do it. I don't know if I would join his band again and do a complete tour. I really enjoy the Therion thing right now, and even though I'm not in the band of Therion, I really would like to do the next album and do the whole tour again, because it works so great. I have a really good time with the guys, we have become good friends, and if you're gonna play with Yngwie Malmsteen, you'll have to work with him all the time. You can't do anything else on the side. And the way it is now, I really feel comfortable with doing a lot of things with Therion and being able to do some of the other stuff on the side as well. The thing I've been doing with Leif, the Krux thing, it's all about having fun, because we really enjoy playing together, we're just friends, we're just having a good time. It's a bit different from album to album, some projects you do as a freelance singer, some albums you do with your friends here in Sweden. You don't get much money from that, but it doesn't matter, you just wanna do a good album with good musicians.
Let's talk about Krux in more detail. You re-united with Leif Edling once again in 2002, but only one album has been released so far. Is it a one-time project, or shall we expect the second album one day?
We're gonna record the second album in March, we've already booked the studio time. Hopefully it will be released in the end of this year, after the summer or something. I don't know exactly, because it's up to Leif, Leif knows all that, I just know that we're gonna record in March. Leif is going out with Candlemass, because they're releasing an album, and they're gonna play festivals and stuff this summer. Maybe they'll also do a tour after the summer, I don't know, and because of that we'll have to wait with the Krux album until he has time. I would really like to get out and tour with Krux, because they're really good friends of mine, and we will have a really good time. It depends a bit, because we have people from Entombed as well in Krux, and they also must be free from touring to get out. (laughs) It's kind of hard to get all the guys in Krux together to do a tour, but it would be nice just to play a couple of weeks anyway.
How many shows have you played with Krux so far?
We only played two shows in Stockholm. The first show was recorded for a DVD, and we did another show about one year ago. It's really hard to get the band together. (laughs)
Considering all the bands and projects you have played with, where did you have the biggest input in the material?
Well… Probably… I had a lot of input in the Yngwie Malmsteen album, I probably wrote almost all the lyrics and a lot of vocal melodies as well, even though I'm not credited for that. On the Southpaw album I did with Fredrick Akesson, each of us did half of that album, you could say so. I wrote quite a lot of the lyrics for Dogface, even though Martin the guitar player had most of the music done before. Krux and Abstrakt Algebra are totally Leif's material, I didn't have too much to do with that. I did most of the lyrics on the latest At Vance album that is being released now. I wrote some stuff on the Treat album as well. That's what I can think of right now. But probably most of the songs I've been writing are still kept for myself, for my solo album, because the style is pretty different.
Could you share more information on your upcoming solo album with us? Who is playing there? What is done already?
It's been my project from the start, I've been playing a lot of instruments myself, I've been recording all the drums and stuff, but I might re-do them with another guy that I've been starting to see. Then there's a local bass player here from Stockholm, and the guy who plays guitar on it together with me is Fredrick Akesson, we did the Southpaw album together, he's a really great guitar player. We play a lot here in Stockholm for fun, sometimes we play covers together. He was just out with Tiamat, touring with them, and he used to play with Talisman as well. I'm playing some guitar myself as well and all the keyboards. I haven't done the vocals yet, I will do the vocals in a couple of months, but I don't have a record company yet. I'm recording the whole stuff myself and paying for it myself, and then I'll hopefully get it released.
That should be really interesting, we're looking forward to it. But looking back once again, which of your CDs do you often listen to yourself?
I never listen to any of those! (laughs) I can't remember when I listened to any of the albums that I did, they just collect dust. But if I should listen to something, I would probably listen to Krux and Abstrakt Algebra, maybe some Yngwie stuff as well. I wouldn't listen to the Therion stuff, because we played those songs so much last year, we did 55 shows or something, and I wouldn't listen to that stuff right now. And I only did vocals on four songs on that double album as well.
Is there any chance for a Treat reunion?
No. After we did that album with Treat, both me and Anders Wilkstrom, the guitar player, who was always the leader and the motor of the band, started to listen to other kinds of music at that time, such as Pantera. After we disbanded Treat, him, me and Niklas, the drummer from Electric Boys, started a fun cover band next summer, where we played a lot of Pantera and Red Hot Chili Peppers stuff. That's a totally different kind of music from what we were doing with Treat. We both felt that we would probably not do that thing again. It was good at that time, but we really felt it was enough. I know that there have been some talks about a reunion, but those talks are mostly initiated by other previous Treat members, they want to do something. I wouldn't do it again, and Anders wouldn't do it again, and since Anders was the founding member and he's not there, I don't think anything will happen. Anders is a very successful songwriter, he cooperates with another friend of mine here in Sweden, they just started a pop project, and I would be very surprised if there is a Treat reunion.
In that cover project you did with Anders, was it you who sang Phil Anselmo's parts?
Yeah. We used to play "Mouth For War" and "Walk" from the "Vulgar Display Of Power" album.
Wow! Then is there a vocalist whose parts you cannot reproduce? Or can you sing like anybody you hear?
No, I can't. Some people have really special voices that are very hard to do for me. Some voices I can do, some voices would be really hard. It would be really hard for me to sound like Rod Stuart or David Lee Roth, because they have the voices that are so special. It would be hard for me to sound like Freddie Mercury, for instance. There are so many great singers that have specific voices that would be really hard for me to do. Some voices you can identify, you can understand the vibe of that vocals, but sure there are so many great vocalists that I cannot reproduce. (laughs)
Have there been any young singers that impressed you lately?
Well, when it comes to hard rock and heavy metal, I couldn't really tell you. I really like the vocals of Devin Townsend, but he's not young anymore. I really like Strapping Young Lad, I really like some of the stuff he does with his voice, I think he's great. I'm a very big fan of Mike Patton, the ex-singer of Faith No More, I really like him. There is probably a number of great singers that I haven't heard, because I don't hear all the new bands, but I don't know. A lot of new bands are coming out right now, they sound really good and they play really well, but I can't really think of one specific person right now.
Let's now pass on to Sabbtail, a very interesting band that you worked with a couple of years ago. Are they still going at the moment, is there any chance for another album?
(sighs) That's the question I ask myself as well. I don't know, I can't really tell you. The album that I sang on ("Nightchurch") was released maybe a year ago, and we've been talking about doing a new album for the last six months, but nothing seems to happen. I don't know what the problem is really, because it's the project of keyboard player Jan Bingegard and bass player Janne Lund, they write all the songs. Fredrick, the guitar player who's on my solo album, is also in this project. I don't know what's gonna happen. I don't even have the copy of the Japanese release, I've been asking for it and I haven't received it. To be quite honest with you, I haven't received all of the money they owe me as well. (laughs) I would be interested in doing another album, because I like many of the songs, it was a nice cross between Deep Purple and Black Sabbath, but I haven't heard from the guys for quite a while. They don't live here in the center of Stockholm, so I never see them. I've been trying to call them as well, but it's hard to get a hold of them. I really don't know what's happening.
Some people describe "Nightchurch" as an occult album. Is anybody in the band really interested in occultism or any unorthodox religions?
It's the keyboard player who writes all the lyrics more or less, and he's really interested in some of that stuff. I don't think he's a really occult guy, but he's interested in some of that stuff.
There is another cool band you're involved with - At Vance. What made you accept Olaf Lenk's proposal to join them? They're based in Germany, so your involvement would involve a lot of traveling…
Yeah, but that's not a big problem, it's kind of easy to get down to Frankfurt from Stockholm. In the beginning I didn't like the idea, but Olaf was calling me again and again. (laughs) I met with Olaf, he's a really nice guy, and after a while he kind of persuaded me. All the songs were more or less written at that time, he had all the lyrics, so I just had to sing them. The album ("The Evil In You") came out in 2003, then we recorded another album a couple of months ago, and it's gonna be out in a couple of months. We're going out on tour in March and April together with a band called Brainstorm, we're doing about three weeks in Europe.
Can you compare Olaf and Yngwie as musicians and human beings? I mean, both of them are lead guitarists who are in full control of their bands…
Yeah, Olaf is a very talented guitar player as well. You can compare him to Yngwie a bit, because he's using the same scale for solos. Also At Vance is a band that's very much based on Olaf, he's got a studio in his home as well, just as Yngwie has, and more or less everything is recorded there. Olaf writes all the music as well, and he's very much in control of the band, and there have been a number of line-up changes in At Vance through the years as well. I guess you can compare them in that sense. But as human beings, they are pretty different.
Can you also compare the recording process of "The Evil In You" and the new album? As far as we understand, you now have much more freedom with lyrics and vocal parts…
When I joined At Vance, Olaf didn't really know me, he was so used to… Their old vocalist Oliver Hartmann, Olaf used to produce him really much, it was very much Olaf's ideas that came out on records, that's what he told me anyway. And I'm more used to doing my thing, so it took a while before Olaf could relax and trust in me, so to speak. It wasn't until we started playing live that he understood that it works pretty fine if I do it the way I wanna do it. In this sense, it was easier this time. But it was harder to record the new album, because I've been out touring with Therion so much in the past six months, and it was really hard to find the time for doing the At Vance record. Eventually we played a couple of shows with Therion in Greece in the beginning of October, I flew straight to Frankfurt and stayed there for three days. That was the period when I re-wrote most of Olaf's lyrics and recorded the album. It was very stressful, because I had another show with Therion scheduled for the week after that, we didn't really have much time to do this album. But it worked out. For "The Evil In You" we had much more time to work on.
What sound and style will the new album have? Will it be traditional At Vance, or shall we expect some surprises?
I think it's pretty the same style as "The Evil In You", because Olaf has his way of writing songs, and it will be the same At Vance sound on the new album as well, it won't be much of a difference. Olaf wrote all the music from the start anyway, it's just the lyrics that will be a bit different.
What's your favorite At Vance song to play live?
We had a couple of songs on "The Evil In You" that I really like to play live. I really like to play "The Evil In You", the title track, and I really like "The Curtain Will Fall" as well. One song that worked very well live was "Broken Vow". We did some of the old songs as well that Oliver used to sing on, and "Take Me Away" was one of those I really liked. But I guess it's pretty normal that you feel more for the songs you recorded yourself.
In general, can you recall the best live show that you have ever done?
That's really hard. (laughs) In the past six months with Therion we had some really good shows with really big and good audiences, I think Moscow was one of them. We played very good shows in Bolivia and Salvador, but we played so much that I can't remember them properly. We had a couple of really good shows with Yngwie when we played in Japan, and the second Krux show was really cool. There were so many good shows, but many of them were with Therion in 2004. Moscow was the last show we did in 2004, and that was a really good last show to do. There were a lot of people, and to me it was a really good show to do.
In your opinion, what makes a live show successful for you - what are the criteria?
It has a lot to do with the crowd. If there's a good crowd, and if you have a good sound on stage, it works fine. Sometimes the good shows are when you haven't played for a couple of days and you're a bit more hungry, you really wanna get up there. It doesn't matter if it's Tuesday or Saturday, it's just a great night, sometimes it just happens. It's also very nice to play festivals, you play outdoors late at night, when it's cool outside, I really like playing festivals, especially when it's dark.
A question about your image. Nowadays many musicians are having their hair cut, but over the past couple of years you have gone the other way round. Why is that? What makes you grow your hair again?
When I played with Krux, I just shaved off all my hair. I was fed with having long hair, I used to have it for so long, and I just wanted to try out what was it like having no hair at all. I did that for a while, and then I started to let it grow again… I don't know men (laughs), I didn't know what to do with it, so I just let it grow again. When you have long hair, suddenly it's so important having it, and I just wanted to try what it's like having no hair at all. That was pretty cool, especially in the summer it was great, after the shower I didn't have any problems. But then I just started to let it grow again, and it turned out cool as well. Let's see what happens. (laughs)
What do you do apart from singing? Do you have a family? What about hobbies?
I don't have a family except for my parents and my brothers. As to hobbies, I snowboard and I play golf and I go to gym with a friend of mine.
And the final question - what do you consider your biggest achievement in your career? And what were the lowest points, if any?
Eeeh… (pause)
A tough question, we know.
Some of the top moments that I had have to do with getting out playing live in the countries that we haven't been before. When I played with Yngwie, it was the first time that I did shows in Japan and South America, that was a really high moment for me. It was a really big thing for me to meet Cozy Powell and to work with him. (pause) It's really hard, I never thought about it like that. But I'm pretty sure that musically I have some of the high moments in front of me, especially with the album I'm doing right now. As to the lowest moments, I don't know… there were a couple of years in the middle of the 1990s, when I didn't really know what to do, after the Treat thing and before I joined Yngwie there were a couple of years when I really didn't know what direction to take. Maybe those were the lowest moments, I don't know. (laughs)
__

Roman "Maniac" Patrashov, Felix "the Comrade"


January 21, 2005
Comments
No Comments have been Posted.
Post Comment
Please Login to Post a Comment.