ENGLISH - The interview with Sarah Jezebel Deva
Posted by Thor on September 04 2007
When I asked Sarah for the interview, I didn`t expect that she may make it with me in any time! So, we made it just some hours before new year's entry. Beeing honestly, I have never met so great musician - there's no doubt that Sarah is a woman having great heart and character! After the interview we exchanged some personal e-mails so I won't tell you about it ;), but trust me, it's fucking great to have a friend like Sarah! Anyway, in this interview you'll find something about Therion, Cradle of Filth, Mortiis and other bands Sarah sung with. Of course, you will find something about herself too.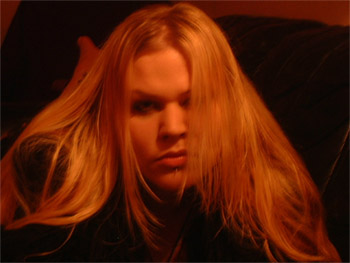 Thor: Hello Sarah. How`s the weather in England?

Sarah Jezebel Deva: The weather is nasty! Dull and raining and cold! I wished it would just snow! Makes everything look fresh!
Okay, let`s start the interview. How and when did you and Chris first meet?
It was in 97 actually, I was introduced to Christoper via a mutual friend. It's funny because a few years before,i sat with a friend and said "damn, wouldn't it be great if i could sing with this band?"... of course I ended up working for them and Iwas so happy!
When you were answering for my reguest about interview you wrote me that you still singing for Therion - you meaned a live shows or work on their new album? - will we hear you on it?

Well i did Vovin and The Crowning of Atlantis... also I did the Live album that was just released. Also did the live video on the 10th annerversary Nuclear Blast video... I've been touring with Therion since late 97 apart from one tour I didn't do (which i think includes the live music video that was recorded in Poland) Chris did mention he wanted me for the new Therion CD.. .but we shall see! It's up to him!
Chris is known that he requeires very much from the musicans. Is he really so despotic? (laugh)
Chris is VERY demanding! I strives for perfection in all he does! In the begining, Chris and i had problems, clash of personallity, I didn't like some of his views and im sure he didn't like some of mine. But, as time went by, Chris and I learnt to communicate on a more adult level, in actual fact, I will say I owe him a lot. Not only does he clearly believe in me and my abillity to sing/perform but if i wasn't singing is songs, Iwouldnt be the singer I am to day! His songs have tought my much voice controll and Therion has been my vocal training.

You were on many performances and festivals with Therion, you were present on Vovin recording session. Is there a person from Therion you like most?

Ah! (laugh) I get on with everyone in my own way! I ADORE the brothers (Kristian and Johan!) and I miss Sami (the drummer who just parted from the band). I can't really say who is my fave! I love them all for who they are.
Weren`t you beacaming irritated that you had to sing in a little strange languages?
NO! It's fantastic education for me! It has helped me become VERY versitile within my vocal range and abillity! Singing in German was the hardest but i soon learnt! I think Chris felt that the Swedish would be a problem for me but it was very easy!
As a Polish I will give you a standard question about Peter Wawrzeniuk. What do you think about him?

Oh dear! lol I don't know who he is! Opps! (feels ashamed) But I will go and research him now as i cant possibly answer this Question now! Sorry!
I bet you won`t tell me who sexually fulfilled during the night on Eurorock 2000 you played with Therion? (laugh) You have written about it in your tour diary.
(laugh) That's so funny! Hey, is wasn't me! (laugh) My fiancee wasn't on that show as he was working with Pitchshifter... .My fiancee is a Guitar tech and also works for Therion and CoF! All i can say is it was a guy! (laugh)

Do you remember some other funny things happened to you during performances?
There's many funny things that happen! But nothing that really comes to mind... Christoper is always making me laugh when I'm singing... He calls me names on stage so only I can see him and he makes me laugh! I havent fallen off stage yet either! (laugh) I'm waiting!
Lot of people knows you from very popular here Cradle Of Filth. Are you there a session vocalist or the full band member?
I'm session. I have been with Cradle of Filth for over nine years now... so I'm part of the furniture! (laugh) I would never become a full time member... if i did,i wouldn't be able to do session for Therion! or any other band.
Is Dani private so horrible as he looks like? (laugh)
(laugh) Dani is wonderfull! He is like my brother! I love him dearly but he can be a pain in the arse! (laugh)
Your real name is Sarah Jane Ferridge but Dani gave you stage nick Sarah Jezebel Deva - what it means?
Jezebel is a whore and Deva, I think, is a singer but i think "Diva" and "Deva" are slightly different and "Deva" has a slightly demonic connection...
Many people thinks Cradles are slowly going into commercial. What do you think about it?
I dont think CoF are commercial. You don't see them on childrens TV and you don't here them on the pop radio! I couldn't give a damn about any band becoming commercial! Commercial is a term used by "Children" who think they are too "Cool" and "Evil" to listen to a band who sells more than 1,000 cds. I don't care about this kind of stuff, if the music is good,who cares how much they sell? I don't!
You are also known from Mortiis. How long do you work with him?
I've been working with him since 97 also! I talked to him on the same trip to Sweden as when I was meeting up with Christoper to discuss me singing for Therion. Me and Mortiis talked on the phone and then I went to Oslo and Mortiis and I went for a drink in Elmstreet... the rest is history as they say! (laugh)
What do you think about his last album?

Well, of course, I sung on this album and I love it! I love his new direction and all I care about is if he is happy! I love that guy!
Do you think he took the right way when he quit from Emperor and started to create his own music? What`s your opinion?
Well, Emperor is one of my all time fave bands! In actual fact! My fave album EVER is "In The Nightside Eclipse" which Mortiis helped to write. As for him leaving the band, well... We all have to change direction some time... I admire Mortiis because of who he is as a person... I've always like his music... Emperor was very small then, I don't suppose he ever realised that they would become one of the biggest and most repected bands in Black Metal history. By leaving Emperor, he hasn't suffered in anyway and the band hasn't either!
Except bands we were talking about, you were singing in some other bands. If you had to choose the only one band, you want to sing in, which one would you choose? (and why?)

Well, I'm not too sure if you mean what band out or all the session bands iIve sung for OR just any band? But I will answer this as two questions...
I'm a HUGE Black Metal fan. So I would choose Cradle of Filth because it's closest to what I love. Also CoF, regardless of line up change in like a family but I know one day I WILL leave... If you ask me what band would I sing for PERMANTLY! It would be my own stuff, my own music... I will stop doin session vocals soon and ONLY forcus on CoF and Therion, till the day they do not need me anyway!
I have read some time ago you will record your own record! Can you say something about it?
Yes! Its entitles Sarah Jezebel Deva! and the album title is "Torn Between Two Worlds". I'm working with Lord Rehn of Abyssos... no deal yet as we are working VERY slow... But the music is VERY movie sound track like. Lord rehn is like a baby Danny Elfman! He is an amazing composer! Also i have a REAL band... Sedulus... Things are moving slow because of my work with CoF, but when I go back to Stockholm again, things will move a bit more! But Sedulus is BM!
The lyrics will be in English language?

Im sure most of the lyrics will be in English but who knows! So far they are!
Is the contact with fans very important thing for you? I`m asking because when I was looking for the way to contact you, I got to the special forum where you`re talking with your fans...

Talking to them is EXTREMELY important to me. I love there feed back and all their opinions count. If it was for the support I have from so many fans around the world, I wouldn't still be singing! I have many guestbook, entries on my Bulgarian website and my official website, and some people just bring tears to my eyes because they say such amazing things to me. I love all the people who support me, they mean the world to me. Us musicians/famous people must NEVER forget how we got here. If it wasn't for the fans,we wouldnt have success!
Certainly you got lot of presents for all these years from your fans - do you remember some untypical or some funny stuff?

I got a little mouse once! (laugh) Not real of course! But I get little things like ear rings, flowers and chocolate! Got a hat once also! People are so sweet!
If we`re talkin` about you and your fans - taking for example Therion - to contact with Chris or other band members man must pay for the fan club... What do you think about it?

Not too sure I understand the question but I don't care for a fan club.... reason I say this is because it's not hard to talk to me... You can go to my message board... you can find ALL info on my sites and it's so easy to talk to me... Ifeel having a fan club would only be to boost my ego and I don't want that! If people want something of me, all they have to do is ask me! If i can do it, Iwill!

You like pets. Have you any at home?

I love animals! If I wasn't a singer Iwould work with animals! I love cats! (laugh) No, sadly no animals, not yet anyway!
You have very close relationships with Cradle Of Filth so you just had to watch their movie "Cradle Of Fear". What did you feel seeing Dani who was killing a cat (laugh)?
Well that cat was not real! It was a stuffed toy! (laugh) Dani loves cats! if he had hurt a REAL cat i would have hurt him! (laugh) Cradle of Fear is good! I liked it a lot! Some parts I didn't like but over all, I'm proud of what Dani and Alex managed to achieve!

How do you think, if you weren`t the singer, who would you be?
I would work with Animals OR work with Children. Dealing with their problems! I have a lot of kids and young adults come to me with their problems, they are depressed or they cut themselves or just have home problems. A lot of the people who come to me can relate to me for many reasons. I'm a good listener, Ihave a lot to say and Ihave had a bad childhood. So they feel they can talk to me about things... They know Ihave a good sense of humour also. (laugh) All this has come from me being so active with my fans and CoF fans... I like that.
Are you recognized on the streets?
Yes, sometimes but not as often as Dani! I mean,you don't see my face everywhere, so still most don't even know what I really look like! I doubt you would reconize me if you walked past me!
You like traveling, you`ve seen many countries when you were going on tours. Is there any place you have never seen but you want to visit it someday?
Many places! Rome, Venice, Egypt, Tailand... still a few places for sure! Although I don;t study much, I love history. Athens was a wondefull place to visit... the history is outstanding... we take so much for granted and damn, Iwould love to go back to ancient times!
I was little suprised when I read you smoke cigarettes! Isn`t it injurious for the voice?
Well, I don't smoke that much! I mean, I can go weeks without smoking! Im a casual smoker! I will only smoke when out with friends down the pub drinking! Smoking hasn't harmed my voice mainly because I know my limit!
Is there any man or band you dream to sing with?

Well! Mike Patton of Faith No More! Aaron of My Dying Bride and Layne Stailey of Alice in Chains but sadly, he died! Theres a few others I would like to sing with... .as for singing WITH a band... not sure anymore! my opinions change all the time! (laugh)
Do you know any Polish band?
Only one band I think! Graveland! Damn amazing Black Metal if you ask me! (laugh) Of course, I know other bands but not many that I care to mention!

Kimberyl Goss, who was in Therion some years ago will publish her own biography book. Will you do something like this in the future?

(laugh) I didnt know that! (laugh) Maybe one day... who knows!

In her book she wants to write about dangers of metal music industry. You`ve been in this bussines for many years - have you meet any dangers for all this time?
Theres dangers in the music sceen! NOT just the metal sceen! And yes! I've been ripped off by Covenant! They owe me a lot of money for Nexus Polaris and what I' ve learned is
A) NEVER trust people untill you REALLY know them!
AND
B) Keep yourself to yourselve!

Now the question little different than the other ones. From you biography placed on your official page there`s able to think, that you`re interested in politics. What would you say to Poles, who in this year will go to vote about entrance to EU.
Ah, well, I'm not REALLY that much into politics, I don't spend enough time reading about this to actually answer this question fully!
The 2002 has passed. In your opinion, what was the most important event of that year in the world and for you? I mean music too.
A big loss to the Metal Sceen would be Layne Staily of Alice in Chains! I cried when he died! The best thing for me this year was my solo album, we have eight songs I think and I'm very happy, so I would say my partnership with Lord Rehn. Music is my life, so I can be a bit blind to other issues sometimes... but each year we learn something different, so I will say everyday is important! Everyday means something to me.
Where will you spend tonight's party?
Tonight Iwill be with my fiancee.... We will be going to a party hosted by the ex girlfriend of Aaron (My Dying Bride)... All of MDB and their wifes/girlfriends will be there apart from Aaron...

Okay, it`s all. I hope you were enjoy answering for my questions :). Thank you very much - everything best in the new year!

It was a total pleasure doin this interview! If you want anything else or have more questions - ask me! (laugh)

___
30th December 2002, by Thor


All rights reserved
PS: Some time after the interview I showed Sarah the picture of Piotr Wawrzeniuk and she laughed a lot! She just never used to say his surname (it's pretty hard to say it, isn't it?), but she knows him very well, of course! Funny situation, hah!
Thanks goes to: Wojtek & Pyrael