ENGLISH - The Interview with Thomas Vikström
Posted by Thor on September 04 2007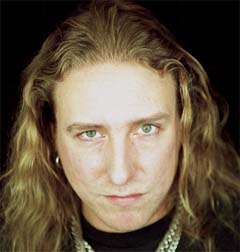 Thomas Vikström has become a new singer in Therion, replacing Mats Leven. There wasn't too much information about him on the internet, so I decided to change it a little bit. Who is this guy? What does he like? What's his life experience? Did he kill a pedophile? You will know the answers when you read this interview...
Nah, I've never been good in writing such introductions, so now I'm going to leave you with Thomas and his answers ;)

Thor: Hello Thomas! How are you tonight?
Thomas: I'm very fine thank you!!! Everything is fine! Except my dog Truzt died last week. But that's the way of nature. I'm looking forward to the next gig on Friday, a festival in Norway.

Please answer frankly to this question (laughs) - had you been listening to Therion records before you joined them?
Honestly, not one single chord! Of course I've heard about them but nothing else. I don't listen to a lot of metal music nowadays so I'm not so up to date to be honest! I listen to the old dinosaurs like Judas Priest, Kiss, Iron Maiden, Alice Cooper, Dio, Ozzy, Rainbow, etc., and of course, Therion! I listen every day to continue to learn lyrics and at the same time enjoy the music!


How did you manage to start the work with such a venerable band like Therion?
I got a call from a guy called Christofer (you know who...), and he told me about the upcoming tour and so on. I told him to send me a sample of music before I agreed. The next day I had the whole Therion collection (except "Secret of the Runes", which he forgot) at my post office!! Talk about a true professional!
And you decided to join the band...
The first thing I did when I got home that day was to put on "Gothic Kabbalah". I was totally blown away by the music! So, even before Der Mitternachtslöwe ended I called up Chris and said: "Hello, it's Thomas! When can I start? I'm in!!!" I told the guys before the first rehearsal that if I wasn't singing in the band I would be a fan!!! And it's 100% true!!

I heard you knew, and still know of course, the person you're going to replace. I mean Mats. Where do you know him from?
Both Mats and I are probably the most hired singers for session works in Sweden today. We've done a lot of things (vocal works) together. For example, we did backing vocals on different albums. This spring we were in Latvia together and participated in their Eurovision song contest. And in the late 80's I was in a band called "Talk of the Town" and Mats was in a band called..... Swedish Erotica (true) and then we often played the same festivals. I respect Mats singing a lot, and he thinks the same of me!

You said you had participated in The Eurovision, don't you think it's a little bit poor festival? You know, all these wannabe stars with extreme chest expansions, sweet boys smiling to the cameras... Why did you agree to take part in it?

Mats and I agreed because a good friend of ours wrote the song. But we didn't sing solo or something like that; we were just doing the backing vocals for this Latvian artist. We were hardly seen in pictures. But basically we went over to do our friend a favour and to party together. I think it may be a cultural thing with this Eurovision song contest. Since ABBA won with Waterloo in Brighton in 1974, it's one of the biggest and most popular events of the year in Sweden. More than half of our population watches the program. But it was definitely a poor event in Riga, Latvia. But I definitely see your point Thor!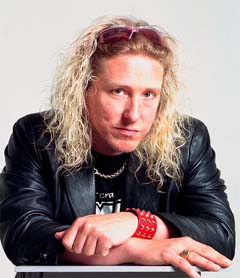 You've already performed once with Therion, about one week ago, at Wacken Festival. Share your impressions!
There is only one word for it: FANTASTIC!! I remember one week before that gig Christofer mailed the Wacken set list for me. I saw some titles... Schwarzalbenheim, Muspelheim and Ginnungagap. At first I thought it was a joke just to scare me. But I never got the "Secrets of the Runes" CD so I had not heard those songs yet. But I got it and when I saw the lyrics I almost started to cry... and laugh at the same time. It's so hard to learn Therion lyrics. But they are REALLY good!! Well, I did manage to memorize them at last. After the gig I was totally euphoric. But the best thing was to meet the fans after the gig when they told me that they liked me and gave me thumbs up! Remember during the gig I could hear some girls screaming my name hysterically! That was so flattering! And when I got home I sat down to read the reaction at the forum. I was almost touched to tears when a saw all the nice things people said about me. You see, to replace someone is one of the hardest things you can do in a band, and it's probably the hardest thing for a fan to accept a new kid on the block so to speak. I told my best friend Richard the next day that Therion and maybe Kiss have the best and most loyal fans in the world! But Therion female fans are better looking than female Kiss fans! (Laughs)

You were playing at 3 p.m. when the sun was up, during reigning of the beautiful weather... Wouldn't you like to play in a smaller club, in some indoors, or being enfolded with eternal darkness? (Laughs)
Of course, I prefer to play in the darkness. But to be disappointed because of that, it's like winning a million dollars and complain about the taxes. Wacken in daylight was a beautiful sight from where I stood!! (Laughs)

Therion will go on the tour in this year - are you preparing in some way to kick fans' asses or you want to leave it for the last moment? Or maybe you are already ready to start the tour?
Well, for myself I'm on a strict diet (wanna look respectable for the female fans). I'm even running! And that's about the most boring thing in the world but I really have to if I wanna be in shape for the tour. We have some new cool things that we are planning, but I don't know if I'm allowed to say anything about it yet. Snowy (who is full of crazy ideas) and I are going to sit down and throw ideas at each other some day soon! But are we going to kick ass? Yes you bet! We will kick some serious ass I can promise that! Hopefully I will have the chance to see some too. (Laughs)

You've met all guys from the band. Could you describe every one of them (including the girls) in few words? Maybe we'll be able to hear something new.
I will try!! You see I met all of them just two days (!) before Wacken! But, I think we all had a fantastic chemistry from start! I think I'll start with Christofer.
I see Christofer like a little odd fellow but definitely not in a negative way. I think he is extremely intelligent and that he is leading this band in a fantastic way! We shared a hotel room and we ended up in very interesting discussions about Wagner and old Swedish singers from the 40's and 50's and we both share a big interest in that. We have a scary similar taste of music! He also gave me a fine bottle of whiskey. I think that was a very nice gesture of him!
Lori: An astonishing woman with a capital W, who charmed me off the chair at once!! And what a voice!! She's very social and funny with a great sense of humour. Sometimes she seems to disappear. When everybody is ready to leave on the bus or plane, everyone goes... "Hey, where is Lori?" Wanna hug her all the time!
Katarina: I could say exactly the same thing like about Lori, but she's not disappearing. But she is a Coca Cola-holic who's trying to be sober. (Laughs) It's amazing to see these women transform when they go up on stage. They have an extraordinary presence and they turn to two sexy bombshells on stage! Well, they are pretty sexy offstage too, but you know what I mean! Very professional!
Niemann brothers: Kindness and charm is the word for these humble sweet brothers!! We also had a ball together at their room. We were listening to music from Kristian's ipod, drank some beer, and chit chatted for hours! Me and Johan made a demo for many years ago with a band that he was in that was called Afterglow (if I remember correct) - it was hyperactive progressive rock and the shortest song was about thirteen minutes. (Laughs) I did not get along with their guitar player. In my book he was arrogant and rude and washed clean from humour. But I remember thinking: "Hmm... but that bass player is really cool!" Our tour manager said a funny thing to Kristian before the meet and greet session at Wacken: "Hey, Kristian! Take that cap off your head so the fans will recognize you..." (With that beard of his?) If I had two brothers I'd pick them!
Petter: A sweet and funny guy and a monstrous drummer! Me, Snowy and Petter hung around after the gig in the backstage area and went to check out Dimmu Borgir together (great gig!). We had a ball! Me and Petter share the same passion for food! We finish our meals first and then we sit around like two vultures waiting for the others to finish their meals so we can pick up the bones!! I think that Petter may have a hot temper, I don't know at all, it's just a feeling I got. But I can be totally wrong, of course. Love the guy!
Snowy: An absolutely crazy and lovely man who is multitalented!! He plays drums, he sings, he designs stuff, etc, etc. I asked him: "Is there anything you can't do Snowy?" He answered: "Yeah man... Knit!" We laugh together all the time. He's a breath of fresh air!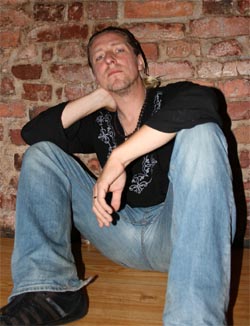 Okay, let's leave Therion and talk about you. Introduce yourself to the fans, you know - age, shoe size, and so on... (laugh)
Ok...This is going to sound like a contact ad: I'm 1.78 tall my shoe size are 44-45. I have blue green eyes and I'm 38 years YOUNG! Some people call me ugly and other people say I'm handsome. You decide! I'm pretty satisfied. My only complexes are my toenails; they are extremely nasty and ugly!
Yuck! (Laughs) How would you describe yourself and your character? Are you introvert, or maybe extrovert?
I'm extrovert! I love to meet new people and to talk. I'm very social and almost always in a good mood. I also love to analyze people and to play hobby psychologist, but on the other hand I have no problems with being alone. I've been called a "diva" in Swedish press but that's WRONG! Maybe it's because I'm always stressed. I'm also a time optimist trying to be better and I do really care for other people a lot. That also goes for the fans! They are number one! Without fans, no Therion! My hobbies besides music, is fishing, movies, ice hockey, boats, and I've started to paint! But I will never show my paintings to people yet! I'm too shy for that! I think I'm a nice guy with good self esteem. My bad sides are: I'm a technical idiot, I don't have a driving license, I'm bad to show up on time (but I'm getting better!). One more thing - I hate conflicts!!

When Christofer Johnsson was introducing you to the fans - announcing the line-up change - he wrote that you used to sing in operas, operettas and musicals. Say something, or maybe much more than something!, about that. It's interesting...

When I was 21 or 22 my band broke up and I didn't have a clue what to do. So I went in to The Folkoperan in Stockholm and asked for a job. They asked me what kind of experience I had and I said none. But somehow I managed the bosses to listen to me sing. That ended up in the main character part in a musical/opera "Barefoot Life" after that they wanted me to stay to do Hoffman in Offenbach's "Adventures of Hoffman". So I did! After that I was in "Miss Saigon". That was a big success and a huge production with helicopters landing and lifting on stage and a real Cadillac coming up from the floor and lifters here and there. We played it for two years. After that I moved to Malmö in the southern part of Sweden to be in the musical "The Full Monty". It's a comedy from the movie with the same name. I was going to play a fat depressed man called "Dave Bukatinsky" so I had to gain around 10 kilos for that part. To make a long story short, the whole things ends with a strip number (me and five other guys) and finally we are completely naked! It was scary the first time - the theatre was a 900 seater! So after that I'm never shy again! Back to Stockholm again to play Marijo, a mean and cruel soldier in the musical "No Mans Land" - it's a musical that is about the Balkan war! I love to play cruel and aggressive characters because it's so far from what I am! I also love acting. I took some lessons from one of the greatest actors in Sweden: Stefan Sauk. I had to pay back in singing lessons. I often do classical concerts in churches and also weddings and funerals. My own website that will be up soon will have pictures from all these productions. It will also have a Q&A section were I will try to respond to people as much as I can! Its address is: www.thomasvikstrom.com
Some people may not know that some influence on you could have been your father who was...
Sven Erik Vikström, one of the best known opera singers in Sweden. He passed away 2002. When I was a kid I thought opera sucked big time. But I liked to hang around on my dad's work and follow him on tour!! I was like a sponge trying to learn all that had to do with entertainment and what to do and not to do and so on. Vocally people say we sound very similar when I sing classical. But my father couldn't sing rock at all. He was totally without blues in his body (laugh). And I have two sisters who are tone deaf! So his influence on me was the right DNA!!
Your father was an opera singer. How did it happen that you started to sing for heavy metal bands?

I don't know, but maybe it was sort of like a protest or something. I was seduced by Kiss, Alice Cooper and other theatrical bands back then. I was just seven years old or something! And I had posters all over my room. Now, today I can see that heavy metal and opera have a lot in common. They are not that far away from each other I think. I remember my dad loved Freddie Mercury and Queen! (I love them too) When I was a kid I use to put on small rock shows and lip-synced to the music and I forced my parents to watch it. The shows could last for an hour… poor mom and dad! (Laughs) And I also used to build a drum kit out of empty coffee cans and different things... And while I was drumming I had a strong lamp pointed at me and wore a thick winter sweater so I should sweat like my idols did!!

Ha-ha! You sang on Candlemass' album "Chapter IV", why can we hear you only on this album? They didn't pay you or what? (Laughs)

Yes I did! And I really like that album. Candlemass wanted to get rid of their doom image after Messiah got kicked/left the band. Candlemass business was handled very bad and I did get paid.......I think I earned 1200 euro totally in Candlemass (including tour and record). That's not too much, is it? But today we are good friends. We are actually playing together in Norway this Friday. Guess who's headlining?

Therion!

Of course Therion!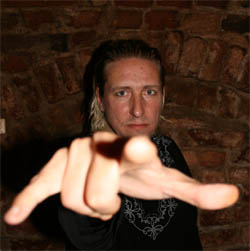 In this decade you sang for Deacon Street, Dark Illusion, Stormwind, and we'll be able to hear you on Mehida's record that's going to be released on 22nd August. Say something about all these bands, what kind of music do they play, do they all still exist? You know, I bet that 90% of people have no bloody idea about these bands.

You are probably right! These bands - except Stormwind (check out the album Rising Symphony! I think it's great) that doesn't exist anymore - are or were projects for me. I'm hired to do the vocal work. I simply sing what they tell me to sing. Deacon Street is a project with many good singers. It's ear candy if you are a fan of melodic west coast oriented rock. Mehida is a Finnish band except me. It's ultra progressive. I recorded all the vocals here in Stockholm myself. If you like that style of music you'll like this one. I only met these guys one time when we did the photo session for the cover in Finland. Dark Illusion is a band that did a record that I think in the end turned out really well. But I was very skeptical in the beginning. Probably there won't be any more records from them...

Are you, like many Nordic metal musicians, into occultism and all this stuff?
No, no, no! Not at all!! Even though I think the image can be cool like a theatrical detail. I'm not religious even if I can't prove that Jesus or Allah and all the other guys don't exist. But I get very suspicious with people that say they KNOW that they exist. Well, who is right? The Christians? The Muslims? Or Hare Krishna? People have the right to BELIEVE in what they want. I do believe in humanism, love and myself! And I also believe in Therion. (Laughs)

Do you live on money earned for singing or you also do something different?
Yes I do! But I worked before with children in kindergarten, with inmates who were to sick to be in prison, as a music teacher. My first job was in a candy factory! I think the things I mentioned before were also my hobbies but now it's only singing.

Therion fans are rather intelligent people, they do read a lot of books - what books would you advice them, which books do you like most and why?
I noticed they are! And that is very cool! If you wanna escape from reality for some hours, read Stephen King! "The Stand" is one of my favourites. I also love to read diaries and memoirs. I'm reading Priscilla Presley's memoirs right now. Fantastic book. I think your mind and heart gets bigger if you look at other people's life, opinions and ways to look at things. But to sit down and read Kafka's "The Process"....Nah, it's not my thing. Boooring! Then if people want to call it a masterpiece...Let them.

And what do you think about Harry Potter? You know, not a long time ago the next volume of this book has been released and people around the world went crazy! Have you ever read it?
I have not been reading these books, but my daughter read them all. I've seen the movies and I think they are really great! I understand why they are so popular. Harry Potter books and movies are ageless - they are entertainment for a seven year old kid and for grandma too.

What beer is the best one in your opinion?
I'm very fond of an Estonian beer called SAKU, and another one I like is the Swedish MARIESTAD. But I'm really more into whiskey even though I'm not a heavy drinker at all!
What are the things you've done in your life you are proud of?
My Kids, never done drugs, I was given a price in school for being the best friend, beating the shit out of a pedophile... Oh, and I hooked an 8 kilo pike! And I'm also very proud to be a member of Therion!

Say something about this event with a pedophile.
Ok, when I was about 25 I was walking down the street passing a school and I saw a man harassing a young girl sexually. She was at most eight or nine years old and scared to death. I'm a very peaceful and non violent man. But when I saw this, my blood was boiling over. I ran to them and told the girl to run far away! And I was beating up this creepy bastard so much I thought for a while I'd killed him. It's the only time in my life I'd hurt someone physically. I don't regret it at all. He got what he deserved!!!

I managed to fix up the interview with you via the Internet. What do you use it for? Playing games, downloading files?
Well....what is the most common things men (and a lot of women) do on the internet? (Laughs) Seriously I use Msn a lot and read news and right now I'm working on my website. But I'm technically very bad with computers. I play games on my Playstation - when I play games I wanna sit on the sofa!!

This interview, as you know, will appear on the Internet, so some die-hard players should read it too (laughs). What games do you like most?

Good! I hope I can get a sponsor deal from Sony... (Laughs) I am into sport games, especially EA Sports and NHL hockey games. My son and I could sit for hours and have tournaments!! (He has just turned 18 and he is a hell of a bass player. He plays in a band called Dark November). I'm also into strategy and platform games. Like Zelda and stuff like that!


Have you ever been to Poland?
No, unfortunately I've never been there! But in the December I'll be in Kraków! Hope I have time to look around in town! When I was a teen I played ice hockey and the star on our team was Polish - his name was Piotr Wozniak. And when I was in first grade in school I was desperately in love with a teacher from Gdańsk or Gdynia. Her name was Barbara.
What do you expect from Polish fans you're going to sing for in December?
I expect them to come and watch Therion and get wild with us. And hopefully get to meet some of you and party with you after the gig!!

Is there anything you want to do, to achieve in the future? Say something about your greatest dream!
To be invincible! I'm so afraid of dying! And it would be cool to be a woman for just one day! I would spend the whole day in front of the mirror! (Laughs) But, the things that are happening with Therion right now is also like a dream! It's totally great!
Well, we're going to finish our talk, one more question - has Christofer said something about your role on the next Therion album? We'll we hear you on it?
No, not a word yet, I'm still waiting. If he asks me I will say "yes" without a blink of an eye. But we haven't had the time yet to speak so much about the future.
All right, at the end of this interview, you can say whatever you want without being questioned (Laughs)
Like I said before I'm very proud to be a member of Therion and it's not for the money! Truthfully! It's for the great quality of music and the members of the band. I finally feel like I found home. Unfortunately for me, the whole idea with Therion is not to have the same singers in the band all the time. But as long as they want me to stay, I will be there! I'm in this for the long run!, and another reason for that is you. The fans!! You are intelligent as Thor says. And so kind!! You make me very proud!
Thanks for your time! See ya on tour, Thomas!
Thank you!! Can't wait to see you on tour!! And don't be afraid to come up to me and say hello! I like that!



15 August 2007
the interview made by Thor


All rights reserved
PS: Thanks goes to Eve for errors correction! :*
Comments
No Comments have been Posted.
Post Comment
Please Login to Post a Comment.