Theli
Posted by Thor on August 13 2007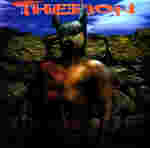 Theli
Rok Wydania: 1996
Utwory:
1. Preludium (1:43)
2. To Mega Therion (6:34)
3. Cults Of The Shadow (5:14)
4. In the Desert Of Set (5:29)
5. Interludium (1:47)
6. Nightside Of Eden (7:31)
7. Opus Eclipse (3:41)
8. Invocation Of Naamah (5:31)
9. The Siren Of The Woods (9:55)
10. Grand finale/postludium (4:04)
Komentarz Chrisa:
W końcu zdobyliśmy pieniądze by stworzyć taki album, który chciałem stworzyć od lat! Zamieściliśmy utwory, które napisałem kilka lat wcześniej, ale nie miałem możliwości ich nagrania. Dodatkowo dopisałem kilka nowych melodii, by dopracować to, o czym przez długi czas marzyłem.
Od Webmastera:
Ten album przez wielu uważany jest za Opus Magnum zespołu. Na tym krążku po raz pierwszy pojawiły się chóry, oraz tak śmiało wyeksponowano nawiązania do muzyki poważnej (doskonały przykład Preludium, Interludium oraz Postludium), natomiast utwór numer 2 - To Mega Therion (niektórzy wiedzą, że tak nazywał się album grupy Celtic Frost :) stał się niejako wizytówką zespołu oraz jego sztandarowym utworem. Ten album był wielkim ryzykiem, sam Chris nieraz wspominał, że gdyby "Theli" nie odniósł sukcesu, pewnie oznaczałoby to koniec Therion.

Comments
No Comments have been Posted.
Post Comment
Please Login to Post a Comment.