Lemuria
Posted by Thor on August 13 2007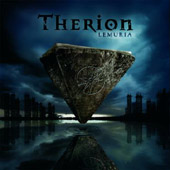 Lemuria
Data wydania: 24 Maj 2004
Utwory:

1. Typhon
2. Uthark Runa
3. Three ships of Berik, part 1: Calling to arms and fighting the battle
4. Three ships of Berik, part 2: Victory!
5. Lemuria
6. Quetzalcoatl
7. The dreams of Swedenborg
8. An arrow from the Sun
9. Abraxas
10. Feuer Overtüre/Prometheus entfesselt
Od Webmastera:
Album nagrywany wraz z Sirius B. Koszt ich nagrania wyniósł 100 tysięcy Euro, wykorzystano orkiestrę praską. Albumy są mieszanką starego, ostrego stylu wraz ostatnimi dokonaniami Therion - jest tu coś z drapieżności charakteryzującej Theli, oraz rozmachu i patosu charakterystycznego dla Deggial oraz SOTR. Po długiej przerwie w kilku utworach można usłyszeć "charkot" samego Johnssona, znowu zaproszono Piotra Wawrzeniuka, nie brakuje także heavy metalowego wokalu, za który odpowiedzialny jest Mats Leven. Nie mogło zabraknąć orkiestry, chórów oraz bogatego instrumenatrium - są tu skrzypce, flety, oboje i inne instrumenty wykorzystywane w filharmoniach. Teksty oczywiście pisał Karlsson, okładkę i książeczki wykonał ten sam człowiek, który "ozdobił" Secret Of The Runes - Thomas Everhard. Przez pierwsze dwa miesiące płytę można było zakupić wraz z krążkiem Sirius B w cenie jednego albumu, w jednym opakowaniu, w pięknie wydanej wersji digipakowej, teraz już tylko osobno. .

Teksty: tutaj
Recenzje: |1|
Recenzja Sirius B/Lemuria: |1|
Comments
No Comments have been Posted.
Post Comment
Please Login to Post a Comment.