Celebrators of Becoming
Posted by Thor on August 13 2007 21:39:01
---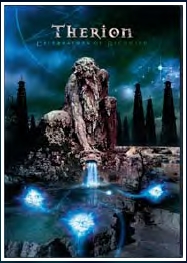 Celebrators of Becoming
Data wydania: 5 Maj 2006
Zawartość:


DISC I: Live in MEXICO CITY
1 Blood of Kingu
2 Uthark Runa
3 Seven secrets of the Sphinx
4 Asgard
5 Son of the sun
6 Invocation of Naamah
7 Typhon
8 Draconian trilogy
9 Flesh of the gods
10 Schwarzalbenheim
11 Ginnungagap
12 In remembrance
13 Wild hunt
14 The invincible
15 Melez
16 Rise of Sodom and Gomorrah
17 The khlysti evangelist
18 Siren of the woods
19 Quetzalcoatl
20 Wine of Aluqah
21 Cults of the shadow
22 To Mega Therion
23 Iron fist

DISC II: Raport z trasy 2004-2005
Zawiera próbę dźwięku, zaimprowizowane soprano a'capella i solo na perkusji, ujęcia zza sceny, można ujrzeć zespół przy wykonywaniu paru czynności, dzień w Boliwii i ponad 30 utworów nagranych w szesnastu krajach europejskich, w Północnej i Południowej Ameryce oraz w Azji. Wśród utworów znajdują się: hymn rosyjski, I Wanna Be Somebody, Black Funeral, Black Sun, Crowning of Atlantis oraz Iron Fist wykonany z Tristanią i Trail of Tears, Caffine (Trail of Tears i Therion w roli gości) i dużo więcej kawałków.
DISC III: Różności
Koncert z Wacken 2001
1 Seven secrets of the Sphinx
2 The invocation of Naamah
3 Cults of the shadow
4 Birth of Venus illegitima
5 In the desert of Set
6 Te Rise of Sodom and Gomorrah
7 Wine of Aluqah
8 To Mega Therion

Klipy:
1 Pandemonic outbreak (1992)
2 A black rose (1993)
3 The beauty in black (1995)
4 To Mega Therion (1996)
5 In the desert of Set (1997)
6 Birth of Venus illegitima (1998)
7 Summernight city (2001)
Dysk zawiera również film "The Golden Embrance", raporty ze studia podczas nagrywania Lemurii i Siriusa B.
DISC IV: Podróż historyczna 1989-2001
1 Paroxysmal holocaust
2 Asphyxiate with fear
3 Dark eternity
4 The return
5 Pandemonic outbreak
6 Enter the dephts of eternal darkness
7 Dawn of perishness
8 Baal Reginon
9 Wings of the hydra
11 Melez
12 Symphony of the dead
13 A black rose
14 Dark princess Naamah
15 Let the new day begin
16 Dawn of perishness
17 Black
18 Cults of the shadow
19 To Mega Therion
20 Under jolly roger
21 Black sun
22 Rise of Sodom and Gomorrah
23 Enter Vril-ya
24 Behind the scenes
25 Riders of Theli
26 theniemannbrothersjam
27 To Mega Therion
28 Wings of the hydra
29 Behind the scenes
30 Seawinds
31 Secret of ther unes
32 Summernight city
33 The beauty in black
34 Behind the scenes
DISC V + VI: Płyty audio z koncertu w Mexico City.


Recenzje: |1|